Can we find true freedom for both society and the human soul? | with Os Guinness - Part 1
Loud voices call for revolution and change today in America. What is the way forward?
Please use the following link to support us. Thank you!
Support us!
Episode 114 - Stephanie is deeply passionate about the message of Os Guinness. How are we to understand the times we are living in? How are we to live as Christians and agents of both reconciliation and truth in a culture that seems to seek neither? How are we to fulfill our calling, individually and corporately? The stakes could not be higher--and the answers are found in Scripture. Join us for a fascinating conversation, a deep dive into the human heart, and an ambitious call to live for such a time as this.

In these stormy times, loud voices from all fronts call for revolution and change. But what kind of revolution brings true freedom to both society and the human soul? In his latest book and on Gospel Spice today, cultural observer Os Guinness explores the nature of revolutionary faith, contrasting between secular revolutions such as the French Revolution and the faith-led revolution of ancient Israel.

He argues that the story of Exodus is the highest, richest, and deepest vision for freedom in human history. It serves as the master story of human freedom and provides the greatest sustained critique of the abuse of power. His contrast between "Paris" and "Sinai" offers a framework for discerning between two kinds of revolution and their different views of human nature, equality, and liberty. Drawing on the Hebrew and Christian Scriptures, Guinness develops Exodus as the Magna Carta of humanity, with a constructive vision of a morally responsible society of independent free people who are covenanted to each other and to justice, peace, stability, and the common good of the community. This is the model from the past that charts our path to the future.

"There are two revolutionary faiths bidding to take the world forward," Guinness writes. "There is no choice facing America and the West that is more urgent and consequential than the choice between Sinai and Paris. Will the coming generation return to faith in God and to humility, or continue to trust in the all sufficiency of Enlightenment reason, punditry, and technocracy? Will its politics be led by principles or by power?"

While Guinness cannot predict our ultimate fate, he warns that we must recognize the crisis of our time and debate the issues openly. As individuals and as a people, we must choose between the revolutions, between faith in God and faith in Reason alone, between freedom and despotism, and between life and death.

Part 2 of this conversation will release as a bonus episode later this week. Stay tuned!

MEET OS GUINNESS

Os Guinness is an author and social critic. Great-great-great grandson of Arthur Guinness, the Dublin brewer, he was born in China in World War Two where his parents were medical missionaries. A witness to the climax of the Chinese revolution in 1949, he was expelled with many other foreigners in 1951 and returned to Europe where he was educated in England. He completed his undergraduate degree at the University of London and his D.Phil in the social sciences from Oriel College, Oxford. Os has written or edited more than thirty books, including The Call, Time for Truth, Unspeakable, A Free People's Suicide, The Global Public Square, Last Call for Liberty, and Carpe Diem Redeemed. His latest book, The Magna Carta of Humanity: Sinai's Revolutionary Faith and the Future of Freedom, was published in 2018. Since moving to the United States in 1984, Os has been a Guest Scholar at the Woodrow Wilson Center for International Studies, a Guest Scholar and Visiting Fellow at the Brookings Institution, and Senior Fellow at the Trinity Forum and the EastWest Institute in New York. He was the lead drafter of the Williamsburg Charter in 1988, a celebration of the bicentennial of the US Constitution, and later of "The Global Charter of Conscience," which was published at the European Union Parliament in 2012. Os has spoken at many of the world's major universities, and spoken widely to political and business conferences across the world. He lives with his wife Jenny in the Washington DC area.

You will find him at http://www.osguinness.com/

GOSPEL SPICE GIVEAWAY

We are giving away copies of the Magna Carta of Humanity, the phenomenal book that we are discussing today on the show. To enter for a chance to win, go to gospelspice.com/giveaway. Winners will be drawn at random among the entries and contacted directly.

  IF YOU'VE ENJOYED THIS INTERVIEW, YOU WILL LOVE OUR GOSPEL SPICE SERIES!

 Click to check out the first episode of each season:

We are currently in the middle of our series titled "Centering on Christ: the Tabernacle" which is such a fitting context for today's interview! Check out the first episode in this current series on gospelspice.com or wherever you are listening to this one from!

"Identity in the Battle": https://www.podcastics.com/episode/74762/link/

 

The Gospel of Matthew: https://www.podcastics.com/episode/3281/link/

The Psalms: 

 

The Gospel of Luke: https://www.podcastics.com/episode/40838/link/

The Book of Proverbs: https://www.podcastics.com/episode/68112/link/

DISCOVER THE GOSPEL SPICE MINISTRIES BEHIND THIS EPISODE

If you enjoyed this episode, we invite you to discover more about how God is at work at Gospel Spice Ministries, and even to join in His work! There are 3 easy ways to do that:

PLAY IT FORWARD by SHARING the show with friends and family: https://www.podcastics.com/podcast/38/link/

PAY IT FORWARD by supporting us financially: gospelspice.com/payitforward

PRAY IT FORWARD by praying for us and those you share it with!

Go to gospelspice.com for more info about Gospel Spice Ministries, the umbrella ministry over the podcast. You will discover our partners and the various services we offer, such as in-depth Bible studies with interactive conversation groups, a couple of times a year. 

Go to gospel-spice.com (with a "dash"!) to join the Gospel Spice Podcast community and interact with us!

Contact us on the website or at contact@gospelspice.com to send us your prayer requests (we pray for you as a team every week!) and let us know how we can come alongside you.

 

BECOME A GOSPELSPICE MEMBER TODAY!

Have you noticed our brand new website? It offers FREE MEMBERSHIP that gives you access to ALL -- we do mean ALL -- the GospelSpice content we have created for you since our inception in 2019! FULL studies, including

- our most in-depth, CENTERING ON CHRIST: THE TABERNACLE

- our most popular to date, IDENTITY IN THE BATTLE

- daily wisdom through PROVERBS

- and more!

Membership gives you access to all sorts of members-only bonus content, such as workbooks, listening guides, questions to go deeper in your GospelSpice experience, quiet time and group study, as well as Bible references and more. We are also committed to keep on adding new content, so there will always be fresh spices here to experience the fullness of life with Christ!

Signup for free at gospelspice.com to become a member for FREE and enjoy all these resources.
os guinness

Os Guinness

gospel spice

gospel spice podcast

gospelspice

magna carta of humanity

ivp

intervarsity press

intervarsitypress

christian podcast

stephanie rousselle

stephanie rouselle

best christian podcast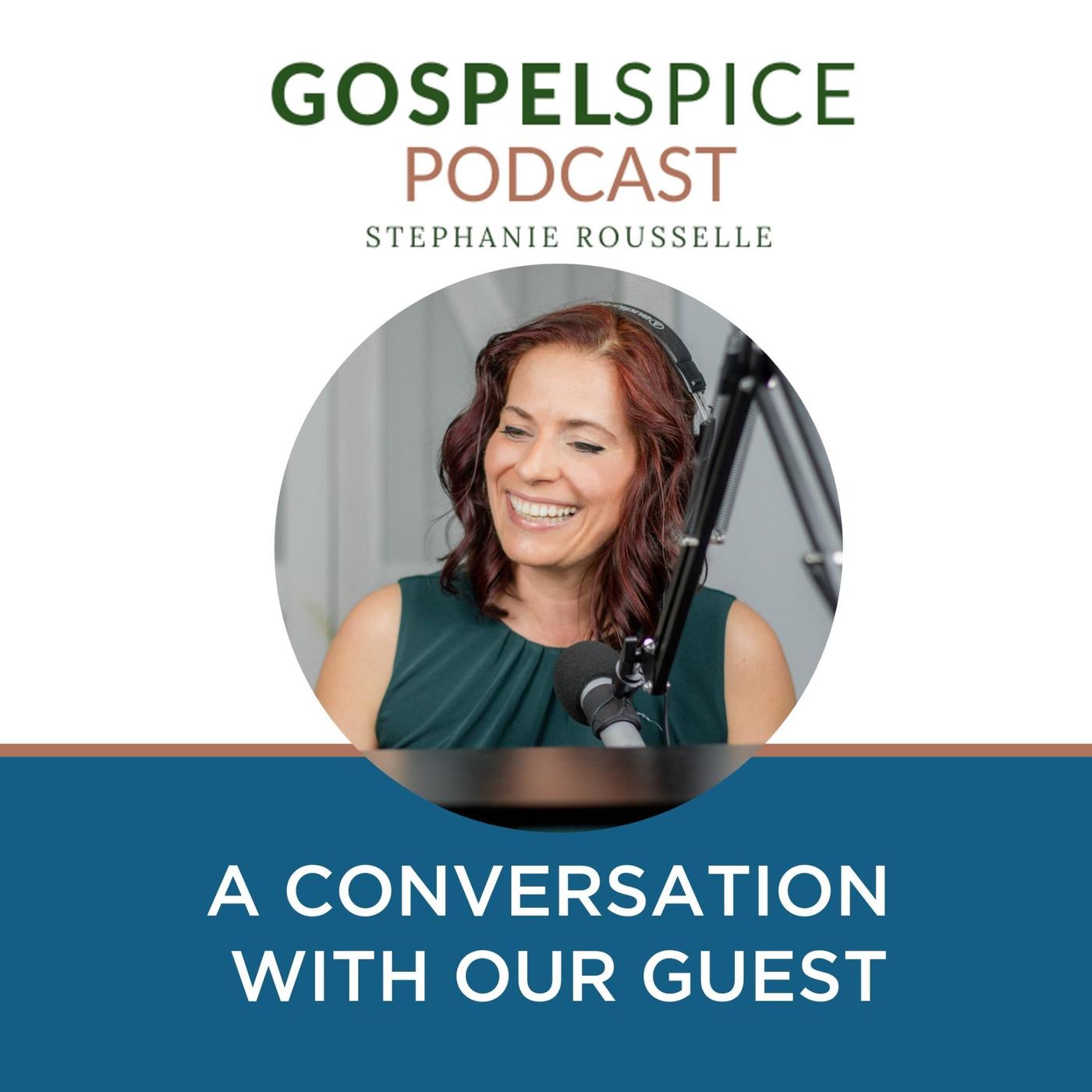 Stephanie invites you to discover the amazing journeys of our guests
Taste & See | Faith in Jesus Christ