Find yourself in the eyes of Christ | with Tessa Afshar
See the world--and yourself--through God's eyes
Please use the following link to support us. Thank you!
Support us!
Episode 93 - Stephanie welcomes Tessa Afshar, bestselling author of historical and biblical fiction. Tessa grew up in Iran in a nominally Muslim family before emigrating to the UK. She became a Christian in her twenties, and it has dramatically affected her life's focus. She had a dream about Christ, and she says, "I am one of the only persons in the universe to ever say that my first reaction to Christ was... disappointment"! But then she saw His eyes and she discovered "unbroken love."

Tessa writes biblical fiction to draw us deep into the reality of life over the 2,000+ years covered in Scripture. In other words, she does through fiction what the Gospel Spice podcast does through teaching: giving us a fresh perspective to help us fall in love with God more!
Tessa and Stephanie discuss her conversion story, and the importance of seeing ourselves through God's eyes.

  If you've enjoyed this episode, you will LOVE our Gospel Spice series! Check out the first episode of each season:

The Gospel of Matthew: https://www.podcastics.com/episode/3281/link/

The Psalms: https://www.podcastics.com/episode/33755/link/

The Gospel of Luke: https://www.podcastics.com/episode/40838/link/

The Book of Proverbs: https://www.podcastics.com/episode/68112/link/

 

IDENTITY IN THE BATTLE: SUMMER 2021 EXCLUSIVE BONUS CONTENT

Go to gospelspice.com/identity to register for FREE for exclusive bonus content to experience our upcoming summer series, IDENTITY IN THE BATTLE, at a whole new level. 

 

DISCOVER THE GOSPEL SPICE MINISTRIES BEHIND THIS EPISODE

If you enjoyed this episode, we invite you to discover more about how God is at work at Gospel Spice Ministries, and even to join in His work! There are 3 easy ways to do that:

PLAY IT FORWARD by SHARING the show with friends and family: https://www.podcastics.com/podcast/38/link/

PAY IT FORWARD by supporting us financially: gospelspice.com/payitforward

PRAY IT FORWARD by praying for us and those you share it with!

Go to gospelspice.com for more info about Gospel Spice Ministries, the umbrella ministry over the podcast. You will discover our partners and the various services we offer, such as in-depth Bible studies with interactive conversation groups, a couple of times a year. 

Go to gospel-spice.com (with a "dash"!) to join the Gospel Spice Podcast community and interact with us!

Contact us on the website or at contact@gospelspice.com to send us your prayer requests (we pray for you as a team every week!) and let us know how we can come alongside you.

 

GOSPEL SPICE GIVEAWAY!

Tessa is giving away a copy of her phenomenal Bible Study, The Way Home: God's invitation to new beginnings.

Go to Gospelspice.com/giveaway to enter for a chance to win! The winner will be announced on the same page next week.

------------

Tessa Afshar is the best-selling author of historical and biblical fiction. Her novels have won a number of awards, including the Christy and the INSPY. She recently released her first bible study and DVD called The Way Home: God's Invitation to New Beginnings, based on the book of Ruth. Tessa was born to a nominally Muslim family in the Middle East and lived there for the first fourteen years of her life. She then moved to England, where she survived boarding school for girls, before immigrating to the United States. Her conversion to Christianity in her twenties changed the course of Tessa's life forever. She holds a master of divinity from Yale University, where she was elected to serve as co-chair of the Evangelical Fellowship at the Divinity School for one year. After working in women's ministry for twenty years, Tessa now works as a full-time writer. Tessa and her husband live in New England where they proudly tend their small, mediocre garden.

Visit her online at TessaAfshar.com.

Make sure to order her latest AMAZING novel, Jewel of the Nile, by clicking here. (released June 1, 2021)

Her Bible Study, wich we discussed on the show, is also available by clicking here.

You will find Tessa on Facebook and on Instagram.
Tessa Afshar

Jewel of the Nile

christian podcast

gospel spice

gospel spice podcast

Ruth Bible Study

stephanie rousselle

the way home

Ruth

Gods invitation

New Beginnings

christian author

afshar

christian writer

christian fiction

christianity

bible study

author of fiction

christian author fiction

iranian christian

faith

christian faith

nile

bible fiction

historical fiction

christian novel

bible novel

historical novel

gospelspice

gospelspicepodcast

christian podcasting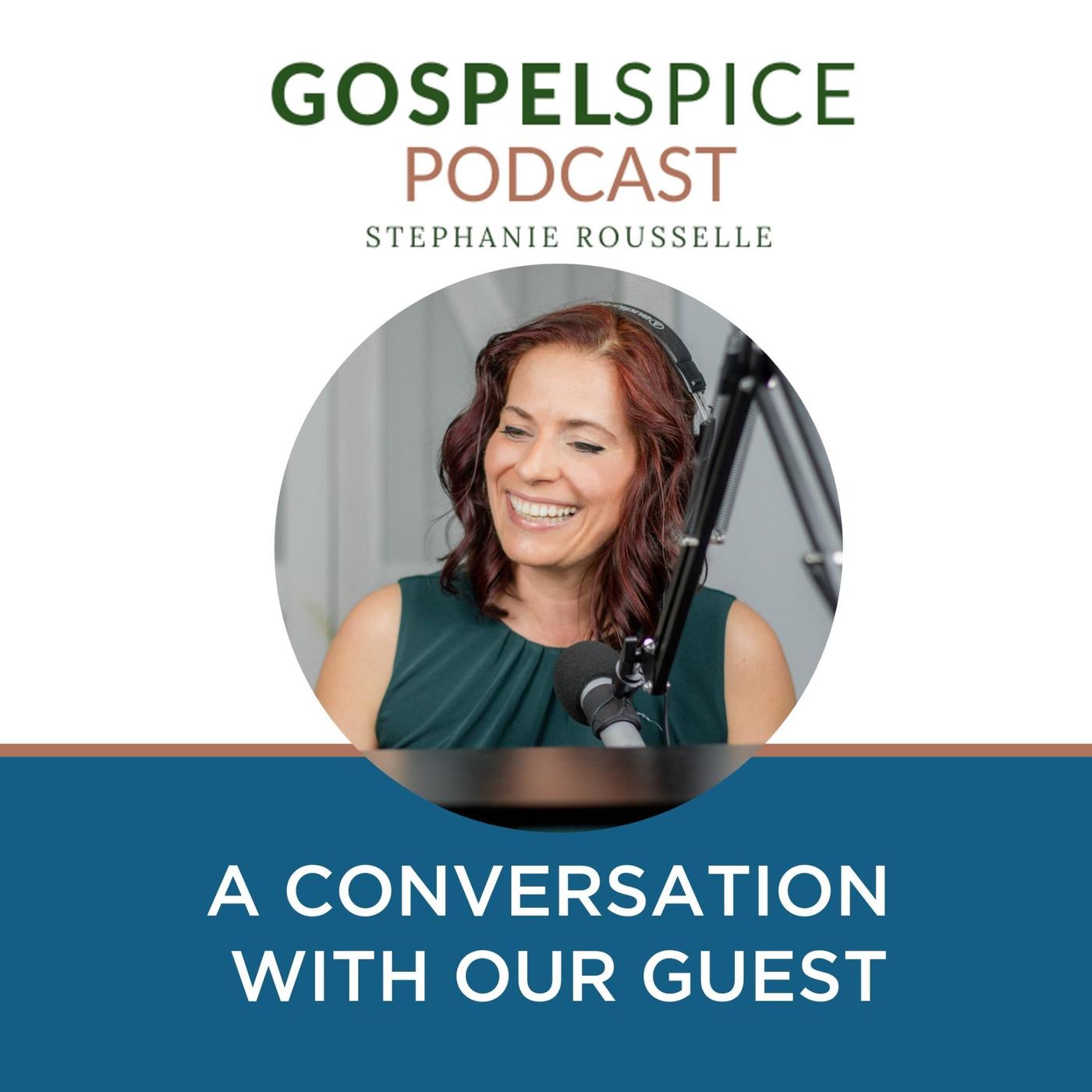 Stephanie invites you to discover the amazing journeys of our guests
Taste & See | Faith in Jesus Christ