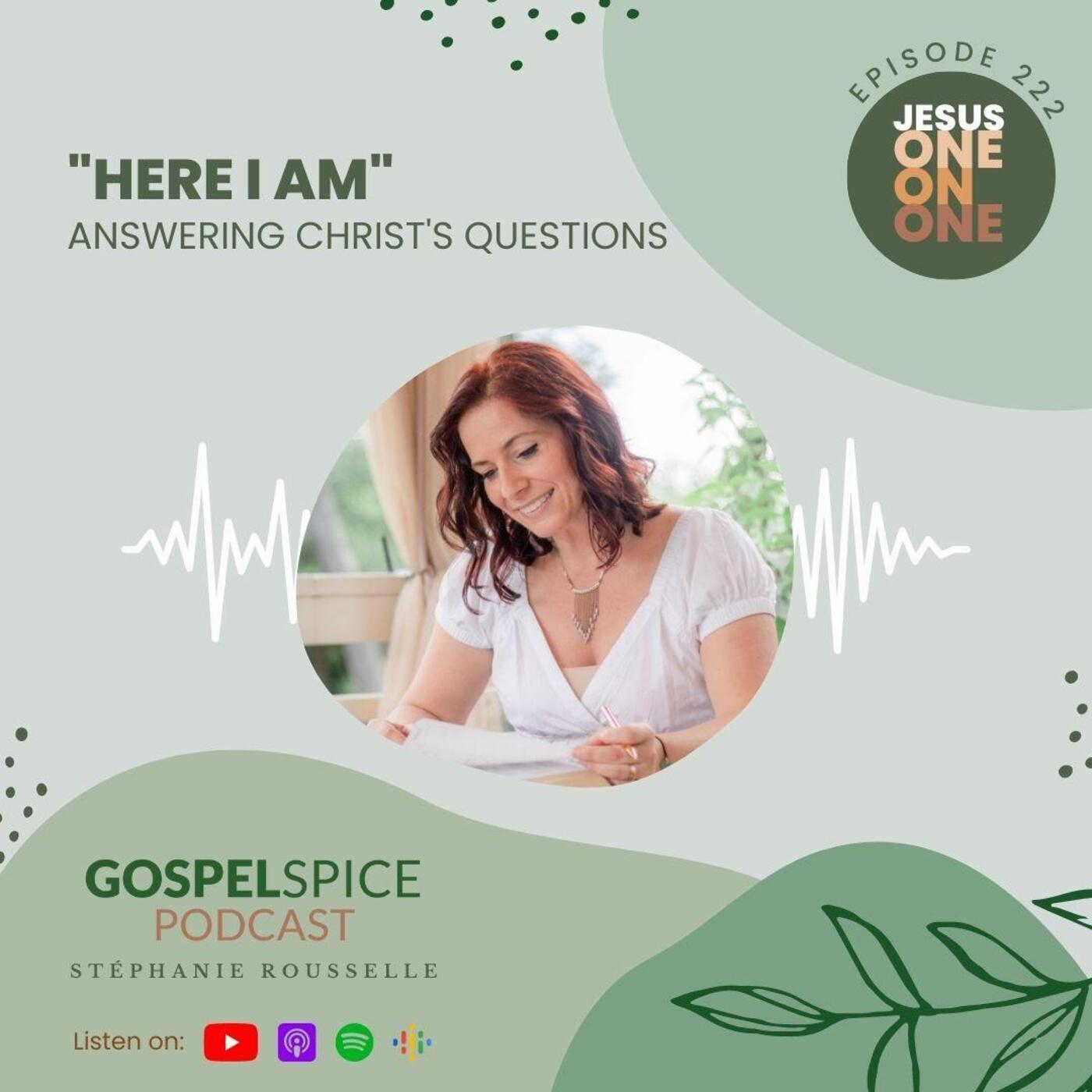 "Here I am." | Answering Christ's questions
The Power of Weakness Through Faith: Overcoming Unbelief
"Here I am, Lord." These are familiar words. We have heard them from the lips of ancient heroes of the faith -- Abraham, Moses, Samuel, and more. But what did they really mean? What do WE mean when we dare speak them? Or do we know them to be so dangerous, we are not sure we are ready to whisper them under our breath, to the One who listens?

Stephanie guides us through Scripture to find the geographical, emotional and mental places where these words are spoken. She then takes us to modern-day Hebrew language and religious culture through the Hebrew word for "here I am" -- heenani. It means more than catches the eye, and points to Jesus. Of course, it does - it is part and parcel of Scripture, the Word who points to the One. This episode is an invitation to experience Jewish insights into Messiah that only make sense in Christ. It is an invitation to worship afresh the One who is our King, our God, our Savior, our Intercessor, our Friend - the One who, ultimately, comes to us, saying, "Here I am."

 

NEW BONUS | QUESTIONS TO GO DEEPER ON YOUR OWN OR WITH A FRIEND

1. What can we learn from the story of Samuel's calling and how can we apply it in our lives?

2. How did Abraham's response of "Here I am" to God's call change the course of his life and what can we learn from it?

3. What is the significance of the Hinani prayer in Jewish Orthodox theology and how does it relate to our Christian faith?

4. How can we practice humility and acknowledge our unworthiness before God, as expressed in the Hinani prayer?

5. How does the role of a worship leader, such as a Chazan, differ between Jewish Orthodox and Christian communities?

6. How can we love God and others with both Agape and Phileo love, as discussed in the episode?

7. How does the concept of communal prayer in Judaism compare to what we see in Christian worship services?

8. How can we ensure that our own inadequacies don't hinder the prayers we offer on behalf of others?

9. How can we respond with "Here I am" to Jesus's call to love and follow him?

10. In what ways can we grow in intimacy with God through our own research and study of Scripture?

This series is an invitation to immerse yourself in the various ways God communicates to us, and us to Him. So pay attention, He is here and willing to whisper in your ear.

A word of caution: don't come to Scripture with the agenda of finding yourself there. Right now we are going to take Scripture in. Like breathing, like eating, like smelling a flower. Don't come to Scripture with the agenda of finding yourself there. Come with the firm intention of discovering God instead. And then Scripture will never disappoint. God promises to be found in the places where He dwells – His Word especially. And in the process, you will undoubtedly find yourself as you find Him. So as we enter the hallowed pages of Scripture together, through a humble doorway and a very simple story, ask yourself: what is this telling me about Jesus?

THERE ARE SEVERAL WAYS TO PARTNER WITH GOSPEL SPICE TODAY!

First, PAY Gospel Spice Forward: Give a tax-deductible gift so others can experience our ministry for free, just like you! You can pay it forward with any debit, credit card, or via PayPal. See below for more details about your impact.

Also, PLAY Gospel Spice Forward: SHARE the podcast and the studies with your friends and family. FOLLOW, RATE & REVIEW on your favorite podcast app (leave a comment + a star rating on Apple Podcast, Spotify, Pandora, IHeart, Google Podcast, etc…). It REALLY is the best way to help others find this content-rich podcast. 

And, last but not least, PRAY Gospel Spice Forward: We pray for you weekly. We covet your prayers for our ministry, the thousands we reach, and our team! Contact us to let us know you are praying for us!

NEW!

Another way to partner with us is to purchase our workbooks and online Bible studies. We keep them at the lowest possible cost, but they require a lot of work from us! For example,

- a complete Bible Study requires an average of 500 man-hours.

- a workbook for a series requires almost 100 man-hours.

MORE ABOUT PARTNERING WITH US FINANCIALLY:

Gospel Spice Ministries is a non-profit organization registered under the tax-exempt 501c3 status.

Our goal is to provide in-depth, high-quality, free Bible resources for all. They are free, but expensive to create! We need your financial support to keep producing and distributing them. Please pay Gospel Spice forward today! For example, a podcast episode takes close to 10 hours of work (and we release 2 each week). They come to you completely free, but we would truly love your support.

We want the money to go to those who really need it. Once our operating costs are paid, 100% of your donation is redistributed to our partners who fight human trafficking. Each year, we aim to give as much as we can. For example, Stephanie works more than full time for Gospel Spice, entirely for free. All board members and volunteers are donating time. We limit our operational expenses to the bare minimum.

Your pay-it-forward donations are tax-deductible under IRS Section 170.

We want to be the best possible stewards of your financial support. Thank you!
questions Jesus asked

jesus asks questions

questions from Jesus

Jesus questions

Jesus Christ

questions in the Bible

questions in Scripture

statements of faith

statements from Scripture

key statements of faith

what did the disciples of Jesus believe?

would you like to get well?

pool of Bethesda

Bethesda

pool of siloam

healing

spiritual healing

psychological healing

emotional healing

physical healing

miracle in the Bible

Jesus miracle

did Jesus do miracles?

miracles

miracle

faith

Christianity

faith podcast

gospelspice

gospel spice

gospel spice podcast

gospelspicepodcast

gospelspice podcast

faith series

stephanie rousselle

summer series

easter 2023

would you like to get well

do you want to get well

John 5

jihn 5:1-9

john 5:1-9

john gospel

Bethesda pool

jerusalem pool

I am a sinner

Luke

Luke5

luke5:1-11

luke 5:1-11

simon peter

peter apolstle

peter the apostle

get away from me

get away from me Lord

for i am a sinner

who is a sinner

what is a sinner

what is sin

who sins

does Jesus forgive?

fisher of men

fisher of man

peter fish

five loaves two fish

2 loaves 2 fish

2 and 5

5 loaves 2 fish

5 fish 2 loaves

5 loaves

2 loaves

5 fish

2 fish

five loaves

two loaves

five fish

two fish

miracle of the bread and fish

miracle of the fish

miracle catch

Bible fish catch

peter catches fish

peter catches men

i am a sinner

i am a sinner get away from me Lord

I am a sinner get away from me Lord

I am a sinner Lord

teach us to pray

prayer

teaching

teach

rabbi

have you anything to eat? emmaus road

eleven disciples
Experience Jesus through intimate conversations.
Taste & See | Faith in Jesus Christ