How can I get rid of my judgmental spirit? | with Michelle Rayburn
from legalism to grace: a Pharisee's journey from prison to freedom
Bonus
Season 5, episode 97
BONUS Episode 97 - Stephanie welcomes Michelle Rayburn today. Michelle is a self-described former legalist Pharisaic believer, and she is well on her way to recovery through sheer grace. The very fact that she can talk about it shows the depth of the transformation that the Holy Spirit has woven within her.

Michelle grew up in the church, and discovered that her legalistic spirit was keeping her from the very One she was pursuing. With admirable vulnerability, she describes the years of daring to step out of the comfort zone of her little church world bubble.  She says she became "too Christian for her pagan friends, and too pagan for her Christian friends" and that is a good thing! The challenge of replacing the bitter spice of legalism with the sweet spice of freedom is a process that she shares with us today.

God has called Michelle to love those who are radically different from her—even the ones who are now the very way she used to be! How does God mentor her to love the unlovable – the very ones who remind her so much of who she once was? The secret? To aim to be the same person in the secret place of our thoughts, as we are in the public sphere of our behaviors and words.

As we go to practical ways to identify the seeds of a legalistic heart. Michelle gives us many red flags that are easy to spot… but harder to let go! We go to pride as the underlying issue beneath all sin, and how we are all guilty! How can we make room for the Lord to change our heart?

Go to https://michellerayburn.com/ for more!

If you've enjoyed this episode, you will LOVE our Gospel Spice series! Check out the first episode of each season:

The Gospel of Matthew: https://www.podcastics.com/episode/3281/link/

The Psalms: https://www.podcastics.com/episode/33755/link/

The Gospel of Luke: https://www.podcastics.com/episode/40838/link/

The Book of Proverbs: https://www.podcastics.com/episode/68112/link/

DISCOVER THE GOSPEL SPICE MINISTRIES BEHIND THIS EPISODE

 

 

If you enjoyed this episode, we invite you to discover more about how God is at work at Gospel Spice Ministries, and even to join in His work! There are 3 easy ways to do that:

PLAY IT FORWARD by SHARING the show with friends and family: https://www.podcastics.com/podcast/38/link/

PAY IT FORWARD by supporting us financially: gospelspice.com/payitforward

PRAY IT FORWARD by praying for us and those you share it with!

Go to gospelspice.com for more info about Gospel Spice Ministries, the umbrella ministry over the podcast. You will discover our partners and the various services we offer, such as in-depth Bible studies with interactive conversation groups, a couple of times a year. 

Go to gospel-spice.com (with a "dash"!) to join the Gospel Spice Podcast community and interact with us!

Contact us on the website or at contact@gospelspice.com to send us your prayer requests (we pray for you as a team every week!) and let us know how we can come alongside you.

MORE ABOUT MICHELLE RAYBURN

Michelle Rayburn is a freelance writer and podcaster who appreciates how life's difficulties can turn out to be opportunities learn and grow. She loves dark chocolate, iced coffee, and a breezy afternoon in the hammock with a good book. She's the author of several Christian living books, including The Repurposed and Upcycled Life: When God Turns Trash to Treasure and Classic Marriage: Staying in Love as Your Odometer Climbs. She has also published articles and Bible studies in places such as Focus on the Family, Christian Communicator, Chicken Soup for the Soul, Today's Christian Living, and ChristianBibleStudies.com.

Michelle has her MA in ministry leadership with a counseling emphasis. She has been married to her husband, Phil, for 30 years and they have successfully launched two sons into adulthood. With all that testosterone around, she has mastered the art of lighthearted sarcasm and dad jokes as a second language. But she's delighted to have reinforcements on team estrogen with two daughters-in-love and a sweet little granddaughter!

YOU ARE INVITED to follow in the footsteps of Jesus this fall!

Stephanie invites you to join her for this virtual tour of first-century Israel to experience Jesus' teachings like never before. This original online Bible Study by Gospel Spice will be taught exclusively from October 5 to November 16, 2023. Go to gospelspice.com/footsteps to register, and all the details!

 
stephanie rousselle

stephanie rouselle

Stephanie ROusselle

Stephanie Rousselle

Stephanie Rouselle

rousselle

rouselle

michelle rayburn

Michelle Raybutn

Michelle Rayburn

repurposed live

repurposed life

gospel spice

gospelspice

GospelSPice

GospelSpice

GospelSpicePodcast

gospelspicepodcast

gospelspice podcast

gospel spice podcast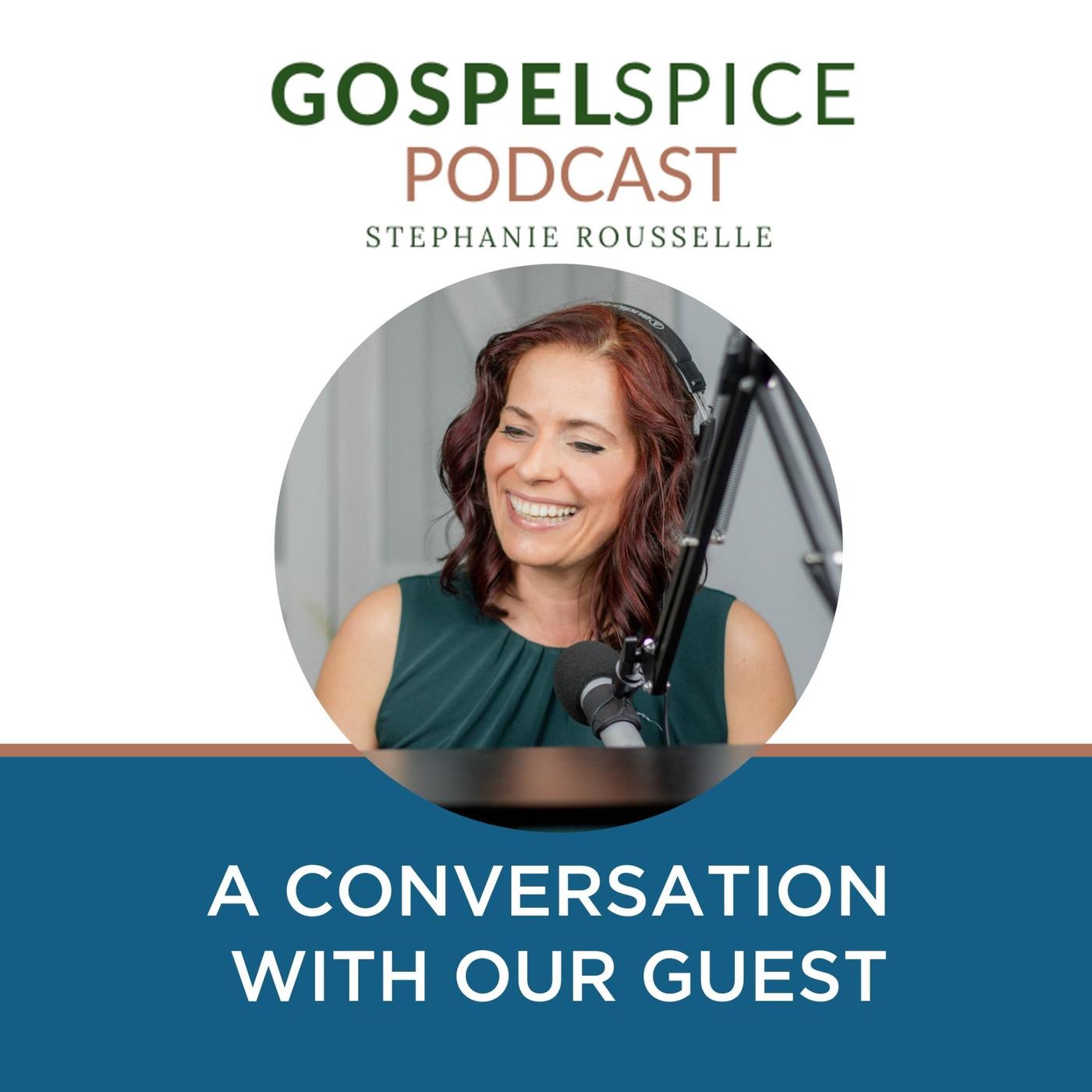 Stephanie invites you to discover the amazing journeys of our guests
Taste & See | Faith in Jesus Christ