I have good news today: God will not give up on you | with Max Lucado
what Jacob's story teaches about grace, mercy, and God's relentless love
Bonjour! Stephanie here. You know how sometimes we love to have Christmas in July? Or, in this case, maybe in September? Today was such a special day for me. I just had the most delightful conversation with Max Lucado about the power of honesty and the grace of God. Here is what Max has to tell you: "Could you use a fresh reminder of God's grace? Do you need to be told, maybe for the first time, God never gives up on you? If so, join Stephanie and me for a delightful conversation about God's grace, about the beautiful city of Paris, about life in a world where forgiveness is abundant. Join us, please, on Gospel Spice."

And, yes, we also did talk about Paris, about good food and all sorts of other fun things. And I'm honestly still processing the richness of our conversation. I cannot wait to share it with you. We're going to talk about the dangers of manipulation, and the hope that honesty brings into our lives. You're going to find yourself probably agreeing with us on the unmatched, though often misunderstood power of grace in Christ. We're laughing and we're almost crying together from sheer gratitude over God's goodness for us. And I'm sure you can relate. Have you ever wondered if you've had one too many stumbles for God to use someone like you? Or, have you asked if you could benefit from an encounter with God's unending, unbending, unswerving love and freedom? That is what Max talked about with me today—through the lens of Jacob's life. And if your answer is yes, like Jacob, then Max invites you to see how God's grace transformed Jacob's life. Now, I really wish I couldn't relate to Jacob as much as I do because he's not the perfect hero by any means. If anything, he's quite the anti-hero. He's a manipulative cheat, and he doesn't understand grace until God literally smacks him with it, disabling his hip in the process. And so Max Lucado and I talked about that – and we invite you to join the conversation right now!

MORE ABOUT "GOD NEVER GIVES UP ON YOU."

Ever wonder if you've had one too many stumbles for God to use someone like you? Could you benefit from an encounter with God's unending, unbending, unswerving love and devotion?

If your answer is yes, it's time for you to see how God's grace transformed Jacob's life. And if you feel undeserving of God's grace, this book will serve as a refresher course on God's perfect plan to use imperfect people to do great things.

God Never Gives Up on You is for the strugglers among us and the fumbler within us. For those of us who are part saint, part scoundrel; we mean well, but we don't always do well. We have breakthroughs and breakdowns, often in the same hour. We need no reminder of our failures, but we could always use a refresher course on God's perfect plan to use imperfect people to do great things. But where can we find examples of God's steadfast grace?

No one is more suited to help assure you of God's grace than Jacob. He was less a prodigy and more a prodigal. Strong on savvy. Weak on conscience. Jacob took advantage of his famished brother and pulled the wool over the eyes of his dying father, yet God never turned his back on Jacob. And he won't turn his back on you. If you are ready to start counting on God's grace and believe he never gives up on you, this book is for you.

Jacob's story invites us to believe in a God who sticks beside the unworthy and underachievers and leads us safely home. If God can use Jacob to further his kingdom, he can use us too.

MORE ABOUT MAX LUCADO

Max Lucado is a pastor, speaker, and best-selling author who, in his own words, "writes books for people who don't read books." He serves the people of Oak Hills Church in San Antonio, Texas, and his message is for the hurting, the guilty, the lonely, and the discouraged: God loves you; let him.

As a writer, Max is known for combining poetic storytelling and homespun humor with the heart of a pastor. All of his trade books began as sermon series at Oak Hills Church, and his sermons all begin with Max asking himself this question: "What can I say on Sunday that will still matter on Monday?" He's been dubbed "America's Pastor" by Christianity Today, and "The Best Preacher in America" by Reader's Digest.

Max's books have sold more than 145 million copies in over 50 languages worldwide. He published On the Anvil, his first trade book, in 1985. His 44th trade book, Help Is Here, was released in 2022. Max's books regularly appear on bestseller lists, including The New York Times. His writing has also been featured in Bible studies, Bible commentaries, songs, greeting cards, and even plush toys. He is the recipient of the 2021 ECPA Pinnacle Award for his outstanding contribution to the publishing industry.

Max's love for everyday people began during his childhood in the small town of Andrews, Texas. His father was an oilfield mechanic, his mother was a nurse, and Max spent a lot of his time either running from or running after his brother, Dee. Max grew rebellious in his teenage years, and after one specific drunken night, he began to wonder if there was more to life than parties and chasing girls. He now believes that if Jesus hadn't found him and changed his heart, alcoholism would have been in his future.

After high school, Max attended Abilene Christian University and left with two degrees and a heart for following Jesus and helping others learn about him, too. He moved to Miami, Florida, and took a position as an associate pastor at a small church. This is where Max started writing about Jesus for the first time in the church's monthly newsletter, and it's where he developed his passion for people and ministry.

Florida was also where Max met his wife, Denalyn. Together, they lived first in Miami and then spent several years in Rio de Janeiro, helping plant churches. The newsletters Max wrote to family and friends while in Rio, along with the newsletters he wrote at his church in Miami, eventually formed the manuscript of his first book, On the Anvil.

Max and Denalyn now live in San Antonio, Texas. They have three grown daughters, three sons-in-law, and two grandchildren.

Find more at https://maxlucado.com/

 

DISCOVER THE GOSPEL SPICE MINISTRIES

The Gospel Spice Podcast is part of a larger range of tools given to you by Gospel Spice Ministries.

In a nutshell, we exist to inspire Christ-followers to delight in God.

In more details: we provide resources to empower Christian leaders across generational, social, ethnic and geographical boundaries towards more intimacy with Jesus Christ and discipleship effectiveness through a Biblical Christocentric foundation. The Gospel-Spice Ministries provide a safe environment for spiritual and community growth empowering people to know Christ more intimately, serve one another more powerfully, and reach the world for Jesus.

PLAY IT FORWARD by SHARING the link with friends and family.

PRAY IT FORWARD by praying for us and those you share it with!

PAY IT FORWARD!! Would you consider supporting this show today to help others enjoy it for free? It comes to you completely free, but is labor-intensive to produce, and we want to keep putting it in the ears of people!

Gospel Spice Ministries is a non-profit organization registered under the tax-exempt 501c3 status. Your donations are tax-deductible under IRS Section 170. We want to be the best possible stewards of your financial support. All donations above our minimal operating costs go to Christian organizations fighting human trafficking.

Go to gospelspice.com for more, and go especially to gospelspice.com/podcast to enjoy our guests! Interested in our blog? Click here: gospelspice.com/blog

(*ListenNotes ranking, 2023)

Experience the peace and presence of Jesus like never before, by walking in His footsteps on this virtual, highly personable tour of first-century Israel! Sign up today at gospelspice.com/footsteps for all the details.

DATES | October 5 to November 16, 2023 (registration closes on October 10, so register now!)

LOCATION | Online! 

Life is busy, and full of worry, anxiety, and stress. What if what we needed was a solid reminder of Jesus' very real presence in our lives? What if walking in His footsteps for a few weeks might prove the cure to our endless challenges, so that we may view our life as He does?

It's said that a visit to Israel will forever change your experience of Scripture. That statement is right. But more than that, it will forever change your experience of Jesus.

Here at Gospel Spice, our goal is to know Jesus more. It means deepening our theology, for sure, but what about discovering the little things Jesus enjoyed? Think of your best friends, or deeply loved ones. You know their favorite color, food, and scent. Not because it's life-changing, but because it is about intimacy, and knowing one another well. So, how about discovering one of Jesus' favorite childhood smells, or the Galilee skyline He woke up to every morning? It may not alter your theology, but it will help you know Him more.

Do you need a full measure of His peace and comfort? Do you need to be reminded of His love for you? Do you need His guidance to navigate your life right now? Stephanie just returned from the Holy Land and invites you to walk in the footsteps of Jesus on this virtual tour of first-century Israel from the comfort of your own home. We will be journeying through Scripture together to meet Jesus where He walked, taught, and fellowshipped with His friends in Galilee. We will encounter Him on the Passion walk, from the Upper Room to Golgotha. We will meet Him in the Garden Tomb.

So, pack your virtual sandals, along with a very real Bible and pen, to journey through Scripture in the footsteps of Jesus!

Sign up today at gospelspice.com/footsteps for all the details.
max lucado

lucado

podcast

christian podcast

god never gives up on you

Jacob

israel

americas pastor

oak hill

san antonio

bible church

bible

christ

jesus christ

christianity

faith

top christian podcast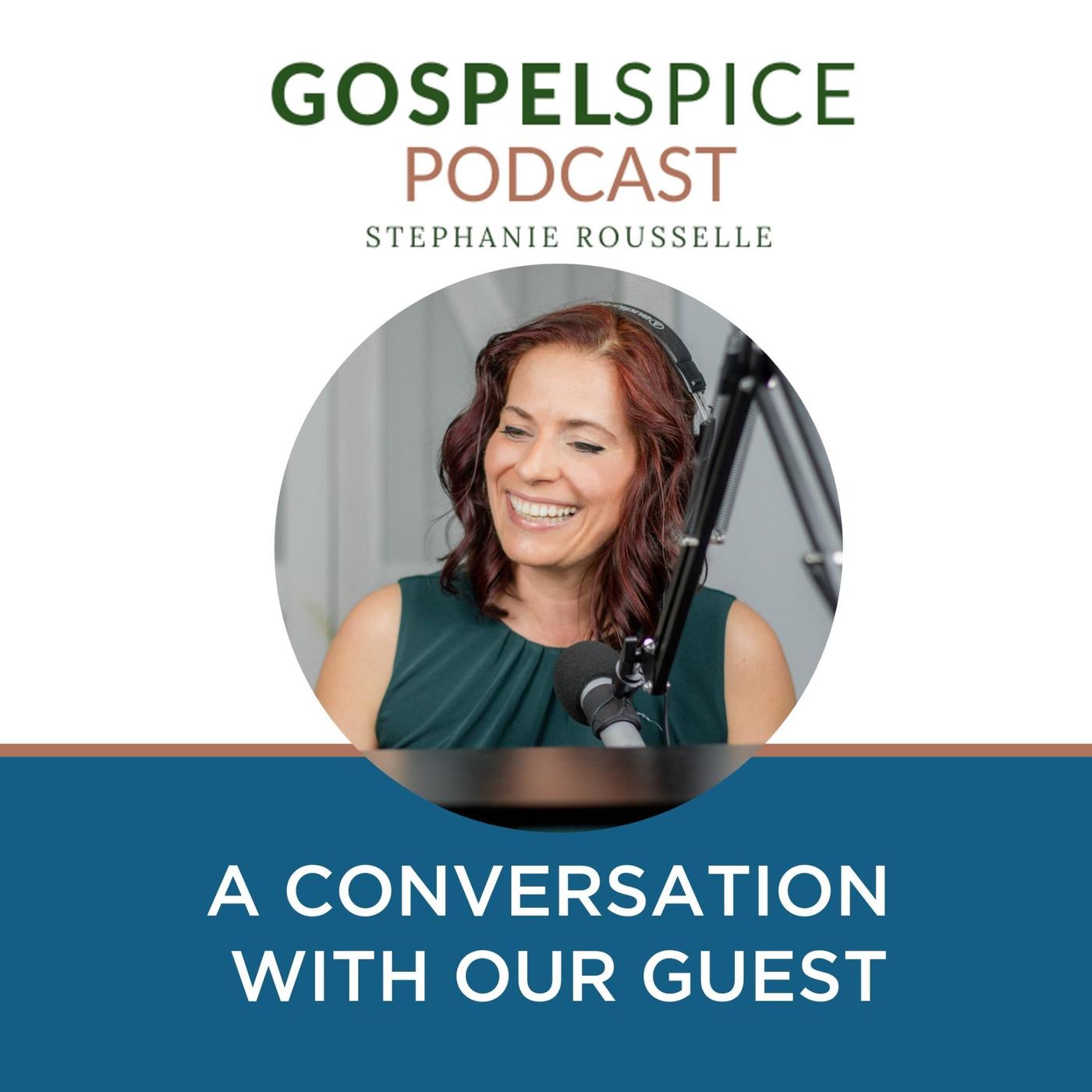 Stephanie invites you to discover the amazing journeys of our guests
Taste & See | Faith in Jesus Christ