Overcoming shame with beauty | with Curt Thompson, MD
Practicing for heaven | our calling today
Please use the following link to support us. Thank you!
Support us!
Episode 149 – Curt Thompson joins Stephanie to share in the experience of delighting in the glory of God through our eponymous series. They discuss the role of beauty in our identity—its creation and our awareness of it. They discuss the importance of crushing in our lives—how beauty often needs to be pulverized in order to attain its purpose, and how spice often delivers its best flavors and fragrance when heated and crushed. They ponder the importance to taste and see that the Lord is good—how sensing precedes our making sense of what we are sensing, and the importance of the five senses in our relationship with God and with one another. They dive into the cultural nuances of our brain formation and our mind transformation. They talk about shame, and desire, and delight, and beauty

Curt invites us to experience Psalm 27:4 through the lens of delight in the glory of God:

One thing I ask from the Lord,
    this only do I seek:
that I may dwell in the house of the Lord
    all the days of my life,
to gaze on the beauty of the Lord
    and to seek him in his temple.

(NIV, Biblica)

Finally, Curt invites us to "practice for heaven" and to discover what it means and how to train our hearts and minds to become ready for the indescribable beauty of delight in the glory of God for all of eternity.

MEET CURT THOMPSON

Curt Thompson (MD, Wright State University) is a board-certified psychiatrist and the founder of Being Known, an organization that develops resources for hope and healing at the intersection of neuroscience and Christian spiritual formation. He is also the author of The Soul of Shame, The Soul of Desire, and Anatomy of the Soul.

Inspired by deep compassion for others and informed from a Christian perspective, psychiatrist Curt Thompson shares fresh insights and practical applications for developing more authentic relationships and fully experiencing our deepest longing: to be known.

With a considerable dose of warmth (and surprising measure of humor), Curt weaves together an understanding of interpersonal neurobiology (IPNB) and a Christian view of what it means to be human — to educate and encourage others as they seek to fulfill their intrinsic desire to feel known, valued and connected. He understands that deep, authentic relationships are essential to experiencing a healthier, more purposeful life — but the only way to realize this is to begin telling our stories more truly.

Curt's unique insights about how the brain affects and processes relationships help people discover a fresh perspective and practical applications to foster healthy and vibrant lives, allowing them to get unstuck and move toward the next beautiful thing they're being called to make.

Through his workshops, speaking engagements, books, organizational consulting, private clinical practice and other platforms, he helps people process their longings, grief, identity, purpose, perspective of God and perspective of humanity, inviting them to engage more authentically with their own stories and their relationships. Only then can they can feel truly known and connected and live into the meaningful reality they desire to create.

Thompson is board certified by the American Board of Psychiatry and Neurology and his main focus of clinical and research interest has been the integration of psychiatry, its associated disciplines, and Christian spiritual formation. He is actively engaged in learning and teaching as he supervises clinical employees and facilitates ongoing education groups for patients and colleagues. He also speaks frequently on the topic at workshops, conferences, and retreats.

Serving as an elder at Washington Community Fellowship in Washington, DC, his duties have included preaching, teaching, and participation in the fellowship's healing prayer ministry. He and his wife, Phyllis, a licensed clinical social worker, are the parents of two children and reside in Arlington, Virginia.

Website            CurtThompsonMD

Podcast.          Being Known Podcast

InstaGram     CurtThompsonMD

Facebook      @CurtThompsonMD

Twitter          @Curt_ThompsonMD

BOOK: The Soul of Desire

GOD'S GLORY, OUR DELIGHT | THE GOSPEL SPICE SERIES

Delighting in the glory of God. Does this concept strike you as reserved for spiritual contemplatives? What if, instead, it proved the highly practical, deeply foundational perspective you need right now?

Why does God's glory even matter in our day and age? How can we learn from Jesus to make His glory our true North and lifelong quest? What keeps us from fully stepping into this God-ordained purpose for our life? How do we kindle delight for God on a daily basis? And, once we have embraced God's glory as our heart's true delight, how can we then come alongside others?

Join us to cultivate a sincere delight for God's glory, rooted in an honest, hard look at the depth of our need, and in the much deeper Reality of His grace. Trace the glory of God through Scripture and in your own life. Behold the exact radiance of God's glory, revealed in Jesus. Learn to see yourself as Christ does—through the lens of the Father's love at the cross. Jesus offers to overwhelm our deadly self-centeredness with His resurrection power. He carries us every step of the way, even as He calls us to true humility on the path to glory.

Who has time to cultivate the delight that comes from pondering the glory of God? And yet, nothing could be more urgent today. Marthas and Marys, Peters and Johns—we are all invited to dare to dream of a lifestyle of God-centered delight. Nothing could be more practical.

BECOME A GOSPELSPICE MEMBER TODAY!

Have you noticed our brand new website? It offers FREE MEMBERSHIP that gives you access to ALL -- we do mean ALL -- the GospelSpice content we have created for you since our inception in 2019! FULL studies, including

- our most in-depth, CENTERING ON CHRIST: THE TABERNACLE

- our most popular to date, IDENTITY IN THE BATTLE

- daily wisdom through PROVERBS

- and more!

Membership gives you access to all sorts of members-only bonus content, such as workbooks, listening guides, questions to go deeper in your GospelSpice experience, quiet time and group study, as well as Bible references and more. We are also committed to keep on adding new content, so there will always be fresh spices here to experience the fullness of life with Christ!

Signup for free at gospelspice.com to become a member for FREE and enjoy all these resources.

DISCOVER THE GOSPEL SPICE MINISTRIES

The Gospel Spice Podcast is part of a larger range of tools given to you by Gospel Spice Ministries.

In a nutshell, we exist to inspire Christ-followers to delight in God.

In more details: we provide resources to empower Christian leaders across generational, social, ethnic and geographical boundaries towards more intimacy with Jesus Christ and discipleship effectiveness through a Biblical Christocentric foundation. The Gospel-Spice Ministries provide a safe environment for spiritual and community growth empowering people to know Christ more intimately, serve one another more powerfully, and reach the world for Jesus.

PLAY IT FORWARD by SHARING the link with friends and family.

PRAY IT FORWARD by praying for us and those you share it with!

PAY IT FORWARD!! Would you consider supporting this show today to help others enjoy it for free? It comes to you completely free, but is labor-intensive to produce, and we want to keep putting it in the ears of people!

Gospel Spice Ministries is a non-profit organization registered under the tax-exempt 501c3 status. Your donations are tax-deductible under IRS Section 170. We want to be the best possible stewards of your financial support. All donations above our minimal operating costs go to Christian organizations fighting human trafficking.

(*ListenNotes ranking, 2023)

We invite you to check out the first episode of each of our series, and decide which one you will want to start with. Or, of course, you can start at the beginning with episode 1. 

Season 1: the gospel of Matthew like you've never experienced it

Season 2: Experience Jesus through the Psalms

Season 3: the gospel of Luke, faith in action

Season 4: Proverbs spiced with wisdom

Season 5: Identity in the battle | Ephesians

Season 6: Centering on Christ | The Tabernacle experience

Season 7: Shades of Red | Against human oppression

Season 8: God's glory, our delight | 

 
curt thompson

Curt Thompson

Dr Curt Thompson

dr curt thompson

psychiatrist curt thompson

psychiatrist

soul of desire

anatomy of the soul

soul of shame

shame

what is shame?

what is desire?

what is the soul?

do I have a soul?

christian podcast

christian psychiatry

gospel spice

gospelspice

stephanie rousselle

does beauty matter?

am I beautiful?

you are beautiful.

is beauty in the eye of the beholder?

beauty

love

practice for heaven

intervarsity press

IVP

beingknown

being known

being known podcast

beingknown.com

known

being knwon

best christian podcast

top christian podcast
Show notes
We are people of desire.
In The Soul of Desire, psychiatrist Curt Thompson suggests that underneath all our longings is the desire to be known—and what's more, that this fundamental yearning manifests itself in our deep need to make things of beauty, revealing who we are to others. Desire and beauty go hand in hand.
But both our craving to be known and our ability to create beauty have been marred by trauma and shame, collapsing our imagination for what God has for us and blinding us to the possibility that beauty could ever emerge from our ashes. Drawing on his work in interpersonal neurobiology and clinical practice, Thompson presents a powerful picture of the capacity of the believing community to reshape our imaginations, hold our desires and griefs together, and invite us into the beauty of God's presence.
The Soul of Desire is a mature, creative work, weaving together neuroscience and spiritual formation to open up new horizons for thinking not only about the nature of the mind, but about what it means to be human.
REVIEWS
"Curt Thompson's The Soul of Desire is a superb example of the integration of theology, psychology, psychiatry, and neurobiology on an applied level. The wisdom he shares penetrates powerfully as it emerges in the lives and stories of real people in safe and transformative communities. Within a few pages, I was eager to reread this book, and I have already begun it again. My guess is many of Thompson's readers will do likewise—desiring, as I do, to live into its depth of insights and practices."
Mark Labberton, president of Fuller Theological Seminary
"In this timely and necessary book, Curt Thompson gently and with great compassion leads us away from the idea that we are 'problems to be solved or broken objects to be repaired.' He reminds us that the original blessing proclaims that we are all created as beloved children of God for the purpose of working with God toward a new creation. By the time I read the last sentence I felt the freedom to embrace what I long for, to reimagine beauty, and to be part of a community created for the purpose of naming my desires, sharing my grief, and doing the work of transformation. And then, I read it again!"
Suzanne Stabile, author of The Path Between Us and The Journey Toward Wholeness
"The Soul of Desire is a feast of new creation hope. Weaving together wisdom from Scripture, insights from neurobiology, and stories of broken lives incrementally made whole, Curt Thompson offers much-needed guidance to those beset by grief, trauma, and shame. His daring proposal is that beauty isn't a luxury but a necessity for our healing, and that this transformative beauty is best encountered and created in the context of vulnerable community. As a pastor, I'm eager to see this profound, even heavenly vision unleashed upon the church. As a person seeking to overcome trauma and shame myself, I'm deeply grateful for Curt's compassion for hurting people and his unmistakable love for the God of beauty to whom this book ultimately points."
Duke Kwon, lead pastor of Grace Meridian Hill and coauthor of Reparations: A Christian Call for Repentance and Repair
"Pick up this book and read it slowly. The Soul of Desire will help you uncover the ways you've built up walls around the deeper places in your soul. With Curt's help, you will see firsthand what beauty can do for the human heart."
Jennie Allen, author of Get Out of Your Head and founder and visionary of IF:Gathering
"Reading this wonderful, deep, and engaging book helped me to see and understand the deep longing I have always felt in my soul as God's factory-equipped desire for beauty, and ultimately for God. Dr. Thompson is once again a doctor of our souls, but in this book his prescription for our healing is to gaze upon, and to make, beauty. Beauty is captivating, and this book captivated me—because it is a beautiful book. I highly recommend you read it, not once but over and over again. This book will no doubt shape many conversations about the care and cure for our souls."
James Bryan Smith, author of The Good and Beautiful God
"Everything Curt writes is life changing for me, and The Soul of Desire is no different. He connects the dots between science and faith through the lens of beauty and relationships. Further, the more you understand why you long for intimacy, the more empowered you become to receive it. We were never meant to live alone. You'll love this empowering book!"
Rebekah Lyons, author of Rhythms of Renewal and You Are Free
"There's something profoundly disarming and inviting about the way Curt writes The Soul of Desire. In its pages we encounter the mind of a biblical scholar, the wisdom of a psychiatrist, and the heart of a pastor. Drawing on sweeping biblical narratives, deeply tender stories of the human experience, and yes, neuroscience, Curt reminds us that even in a broken world we are people of desire with a longing to be deeply known. He boldly declares that beauty is integral for our healing, our transformation, and our flourishing, then shares—testifies!—on the power of a vulnerable community in earthing these realities in our everyday lives. I closed this book challenged, changed, and in awe of God's beauty."
Jo Saxton, speaker, leadership coach, and author of Ready to Rise
"Curt's latest book is really his most hopeful book, a challenge to cultivate the kind of imagination and embodied practice that shifts us from brokenness to beauty. But it's as much Curt's character as it is his wisdom that draws me to this. A remarkable life, a remarkable book!"
Chuck DeGroat, professor of pastoral care and Christian spirituality at Western Theological Seminary, senior fellow at Newbigin House of Studies
"Curt Thompson has a keen eye for seeing beauty in the ashes. He's convinced me that beauty is an essential criterion for truth, a path into deep-level healing, and a sign of transformation. I'm grateful for his uncanny ability to integrate these insights as he walks clients and readers from alienation to belonging and community. Masterful!"
Bradley Jersak, dean of theology and culture at St. Stephen's University, New Brunswick
"What if the glory of God can be revealed in our places of shame? And what if we say yes to the generative work of creating beauty, even in our broken relationships? In The Soul of Desire, Curt Thompson names our fears, taps our deepest longings, and engages our imagination, inviting us to consider how beauty emerges from places of trauma and how God works through authentic and vulnerable community to make all things new. This is a timely, inspiring, and beautiful book."
Sharon Garlough Brown, author of Shades of Light and the Sensible Shoes series
"Curt Thompson's previous work on shame has been life-transforming for numerous readers. Here he continues his interdisciplinary exploration of one of the elemental human experiences that founds our sense of self—the desire to see and to share beauty. Disarmingly self-disclosing, deeply in touch with Scripture and classic Christian sources, and engagingly conversant with the advances and insights of current neuroscientific research, this book beckons us to a deeper, healing knowledge of ourselves and, ultimately, of God."
Wesley Hill, associate professor of New Testament at Western Theological Seminary
"The Soul of Desire by Curt Thompson is a deep and edifying book that emphasizes that we are people created with a fundamental desire or longing for beauty, goodness, and truth related to healing and wholeness. He helps us to take time to dwell, gaze, and inquire of the Lord to fulfill our desire for beauty in the context of community, as well as sharing our grief and suffering, preparing and practicing for heaven to come. Highly recommended!"
Siang-Yang Tan, senior professor of clinical psychology at Fuller Theological Seminary and author of Counseling and Psychotherapy: A Christian Perspective
"'An artist and a psychiatrist get into a car . . . ' sounds like the start of a joke, yet this is actually how I met Curt Thompson. And as unlikely a pairing as we appear on paper, The Soul of Desire seems like an equally absurd mash-up of ideas. But I am happy to say that we became fast friends, and this book, too, turns out to be a wonderfully balanced amalgamation of neuroscience, aesthetics, and Christian faith. Allow this book to help you let go of shame, put yourself in the path of oncoming beauty, and begin imagining that life can be lived as an expression of God's artistry."
Ned Bustard, author and illustrator of Saint Nicholas the Giftgiver and creative director for Square Halo Books
"In his previous books, The Soul of Shame and Anatomy of the Soul, Curt Thompson integrated neuroscience and theology seamlessly, cheering us on in a hopeful, unhurried journey toward healing. In Curt's new book, The Soul of Desire, he brings it all back to the start, setting us right in the path of God's beauty. With the skillfulness of a therapist and the earnestness of an evangelist, Curt Thompson implores us to see how God desires for us to create beauty in the context of confessional community—that our lives would be authentically generative, like works of art."
Sandra McCracken, singer-songwriter and author of Send Out Your Light
"I am drawn to Curt Thompson because, like our Creator, he accounts for and carefully tends to the whole person in his work. With the wisdom of a master therapist and the heart of a well-formed disciple, Curt helps us see how our God-given desire can enrich our community and lead us deeper into the heart of Christ. If you are looking for a trustworthy guide to mentor and guide you along this life-giving path, I cannot recommend The Soul of Desire more highly to you."
Scott Sauls, senior pastor of Christ Presbyterian Church and author of Jesus Outside the Lines
"Curt Thompson is a master of integrating themes that invite us to a place of deeper connection with God, ourselves, others, and the world around us. The combination of his expertise in interpersonal neurobiology, his therapeutic work with groups and individuals, and his passion for the beauty of the gospel brings a fresh gaze to the topics of desire, longing, and healing. It's a perfect companion piece to The Soul of Shame."
Jill Phillips, singer-songwriter
"In The Soul of Desire, Curt Thompson shares a profound and uplifting message about what makes beauty simultaneously spiritual and human. This wonderful book will enrich the faith of readers as they seek meaning and purpose in the turmoil of life."
Arthur C. Brooks, professor at Harvard Kennedy School and Harvard Business School, author of Love Your Enemies: How Decent People Can Save America from the Culture of Contempt
"This is an extraordinary testimony to the power of beauty in a broken and fragmented world. It is extraordinary not simply because of its unusually direct and winsome style, but because of what the author brings to his theme: a professional expertise in neurobiology. More than a testimony, it is also an invitation: to have our deepest desire set alight, our desire for the One from whom all beauty springs."
Jeremy Begbie, Duke University
"Curt Thompson's The Soul of Desire is a book full of beauty and delight that reveals the secrets of healing and tending to wounded souls. This is a remarkable book that weaves biblical narrative together with neurobiological insight and the arts to help us pursue answers to the profound questions of desire. With a disarming wit and sobering honesty, Thompson grapples with weighty truths, all the while grounding his integration in the redemptive work of a risen Savior. The author skillfully and tenderly walks the reader through stories—biblical, clinical, and poetic—that reawaken our sense of grief, revealing the imprints of trauma that have distorted and corrupted desire. He invites us to learn what is at play in our bodies, spirits, and relationships through the context of what he calls 'confessional communities.' A confessional community 'creates a space in which we gather to name our desires, lament our griefs and traumas—all acts of prayer—and out of them become outposts of beauty and new creation in the other domains of our lives.' Thompson is hoping not simply to awaken our minds but also our creative spirits as we hunger for the dawning of a new creation. At the heart of this book he desires that we come to know the G-d who deeply knows us: the one who would soothe us and redeem the stories we've been living and co-creating. This book will inspire you to risk desire, that your life can become a thing of beauty and goodness, even from what is a story of grief and despair."
J. Derek McNeil, president and provost of the Seattle School of Theology and Psychology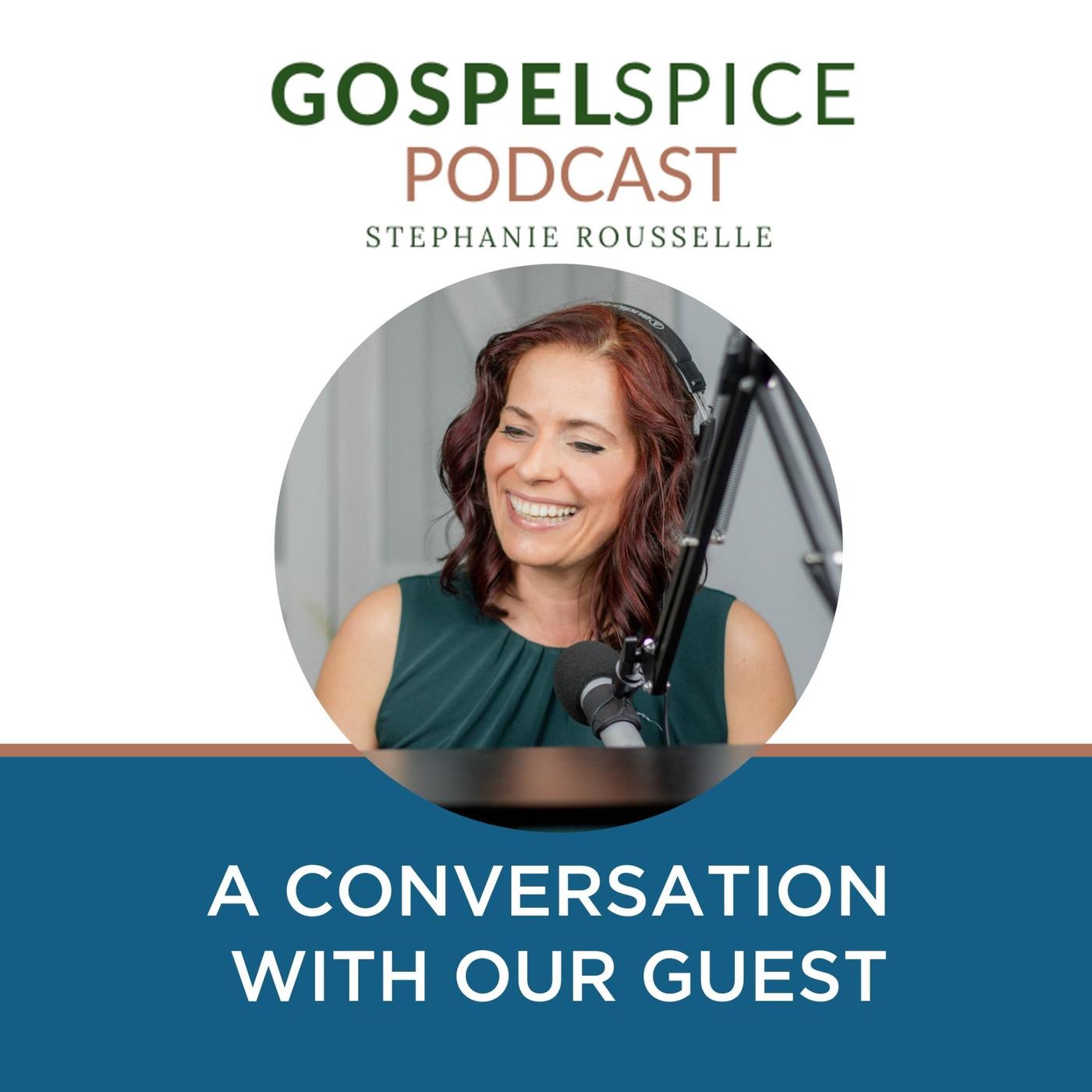 Stephanie invites you to discover the amazing journeys of our guests
Taste & See | Faith in Jesus Christ