Overcoming worry with faith | Jill Briscoe's life lessons
practical tips from a lifelong worrier who overcomes daily!
Please use the following link to support us. Thank you!
Support us!
Episode 83 – Stephanie has quite the treat for you today! The one and only Jill Briscoe is sharing with us her life lessons on worry, aging, and prayer. She shares about obedience from faith as the solution against worry and worldly cares. She teaches us, in her trademark style and accent, the tools SHE has used for decades to become a vessel God used mightily. So, you are invited to put the kettle on, steep some tea (preferably with milk—how British!), maybe enjoy a few scones with clotted cream (Stephanie's favorite!).

International speaker and multi-bestselling author Jill Briscoe, 86 years young, invites us to taste life lessons to embrace the fullness of a life lived solely to the glory of God. It feels like afternoon teatime with your wise aunt, so cozy up with us to soak up wisdom and insights from one of the most respected Christian influencers of our generation!

In this episode, Jill shares some of her life lessons. She says, "what I have learned I am now passing onto you." Such a legacy of faith becomes ours today! For example:

-          "Do not worry" is not about self-love and self-care. It is a direct command from the Lord Jesus Himself.

-          God's grass grows overnight. Hum. Intrigued? You don't want to miss Jill's wisdom on this point.

-          Aging is full of opportunities—take it from Jill!

-          The power of prayer, or how to be but one prayer away from anyone who might be hundreds of miles away from you!

There is no experience quite like sitting across from Jill and listening to her life stories. She beckons you into the legacy of a spiritual giant who delights to inspire you to follow hard after God. Do not let her whimsical storytelling fool you: she is a mighty warrior in God's Kingdom.

Jill gives us the blueprint she has used for decades to approach Scripture. Always look for:

1-      a command to obey;

2-      a warning to heed;

3-      a promise to claim;

4-      something about Jesus;

5-      something about yourself;

6-      and finally, someone standing in the shadows.

As you sip your milk tea alongside Jill, you will hear stories of The Beetles, and of the trap of reaching for your phone instead of your Bible first thing in the morning. You will taste what it is like to emigrate from the UK to the US in the 1970's, leaving everything behind for the sake of God's calling upon a family. You will hear what true obedience looks like, regardless of fatigue and exhaustion.

You will hear how Jill uses her personal Scripture reading to discern God's specific direction for her steps. It is simple and Spirit-filled. You will hear about the privilege of growing old, and the opportunities that come with it. You will hear about the unrelenting pursuit of God through Scripture.

The sound quality isn't always perfect (sorry about that!). But the depth of wisdom in this episode is such, that we decided to keep it, sound imperfections and all. We hope you will be as blessed with it as we have been!

 If you've enjoyed this episode, you will LOVE our Gospel Spice series! Check out the first episode of each season (it will launch in the same app you are currently using to listen):

 The Gospel of Matthew: https://www.podcastics.com/episode/3281/link/

The Psalms: https://www.podcastics.com/episode/33755/link/

The Gospel of Luke: https://www.podcastics.com/episode/40838/link/

The Book of Proverbs: https://www.podcastics.com/episode/68112/link/

 

DISCOVER THE GOSPEL SPICE MINISTRIES BEHIND THIS EPISODE

If you enjoyed this episode, we invite you to discover more about how God is at work at Gospel Spice Ministries, and even to join in His work! 3 easy ways to do that:

PLAY IT FORWARD by SHARING the show with friends and family: https://www.podcastics.com/podcast/38/link/

PAY IT FORWARD by supporting us financially: gospelspice.com/payitforward

PRAY IT FORWARD by praying for us and those you share it with!

For more info about Gospel Spice Ministries, check out gospelspice.com.

 

You will find Jill here:

https://www.tellingthetruth.org/

https://www.facebook.com/AuthorJillBriscoe

https://www.instagram.com/jill.briscoe/

https://www.instagram.com/justbetweenusmag/

This season of the Gospel Spice Podcast is powered by Biblica! We are grateful for this partnership.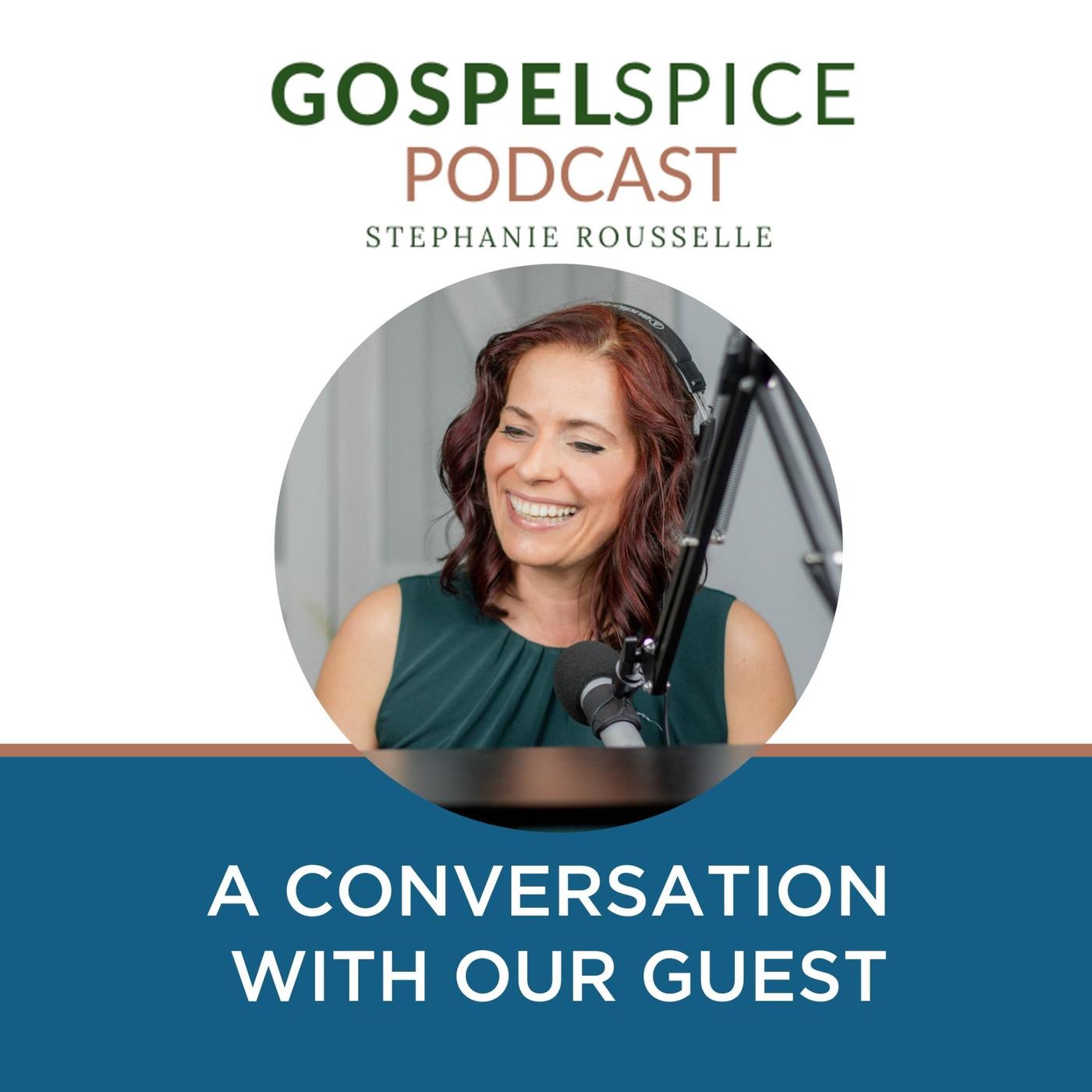 Stephanie invites you to discover the amazing journeys of our guests
The podcast that spices up your time with God