Prayerwalking, the secret to change--in you and others! With Janet McHenry
Expect life changes through prayer!
Please use the following link to support us. Thank you!
Support us!
Episode 75 - Have you ever wondered if there was more to prayer than you've experienced?

Stephanie welcomes Janet McHenry today for a refreshing look at the importance of prayerwalking. You've maybe heard the term. Do you know what it means, and how simple it actually is?
Few practices yield as many results and exciting growth as prayerwalking. Janet McHenry discovered the organic connection between praying and walking out of necessity--for health reasons. But she discovered far more than that--she discovered a lifestyle, the lifestyle of praying all day long as easily as breathing.

Janet tells us,

"Prayer is more about access, than about answers."

"God wants to pray big. He wants us to pray boldly." 

"The world can become your prayer-closet."

Janet is giving a copy of her bestselling book, Prayerwalking, to one Gospel Spice Podcast listener! Go to gospelspice.com/giveaway to enter for a chance to win. Winner announced in our next episode!

Janet McHenry is a prayerwalker. A national speaker and author of 24 books, she has written six on the topic of prayer, including the bestselling PrayerWalk and her newest, The Complete Guide to the Prayers of Jesus. Janet and her husband Craig have lived in the Sierra Valley in northern California, where they raised their four children and where he is a rancher. The leader of a Facebook group called Bible Girls, she coordinates the prayer ministries at The Bridge Church in Reno. The best spice to her Bible study, she says, was her and Craig's trip to Israel, where she spoke at several places where Jesus walked and prayed.

 If you've enjoyed this episode, you will LOVE our Gospel Spice series! Check out the first episode of each season (it will launch in the same app you are using to listen to this episode):

 The Gospel of Matthew: https://www.podcastics.com/episode/3281/link/

 

The Psalms: https://www.podcastics.com/episode/33755/link/

 

The Gospel of Luke: https://www.podcastics.com/episode/40838/link/

 

The Book of Proverbs: https://www.podcastics.com/episode/68112/link/

 

 

GOSPELSPICE GIVEAWAY WITH JANET MCHENRY!

Janet is generously giving away a copy of her bestselling book, PrayerWalk. Go to gospelspice.com/giveaway to enter for a chance to win! We will announce the winners next week on the website.

The winners to Carol Kent's giveaway of Staying Power, as advertised last week, are in the process of being drawn at random from the submissions we received. We will announce the winners shortly on the website! Stay tuned!

STAY IN TOUCH WITH JANET:

Looking Up! website and blog: https://www.janetmchenry.com

Facebook: https://www.facebook.com/janet.mchenry.9

https://www.facebook.com/JanetMcHenryAuthor/

Pinterest: https://www.pinterest.com/janetmchenry/

Twitter:  https://twitter.com/LookingUpFirst

Instagram: https://www.instagram.com/janetmchenry/  @janetmchenry

Linked In: https://www.linkedin.com/in/janet-mchenry-18793b24/

-----------

DID YOU KNOW?

The Gospel Spice Podcast is part of a larger range of tools brought to you by Gospel Spice Ministries. 

Would you consider supporting this show today? It comes to you completely free, but is labor-intensive to produce. For the price of a cup of coffee or two, your monthly support of $5 or $10 would make a huge difference! Donate HERE today.

The Gospel Spice Ministries exist to inspire Christ-followers in our generation to delight in the glory of God by knowing and experiencing Jesus more intimately. We provide resources to empower Christian leaders across generational, social, ethnic and geographical boundaries towards more intimacy with Jesus Christ and discipleship effectiveness through a Biblical Christocentric foundation. The Gospel-Spice Ministries provide a safe environment for spiritual and community growth empowering people to know Christ more intimately, serve one another more powerfully, and reach the world for Jesus.

Gospel Spice Ministries is a non-profit organization registered under the tax-exempt 501c3 status. Your donations are tax-deductible under IRS Section 170. We want to be the best possible stewards of your financial support.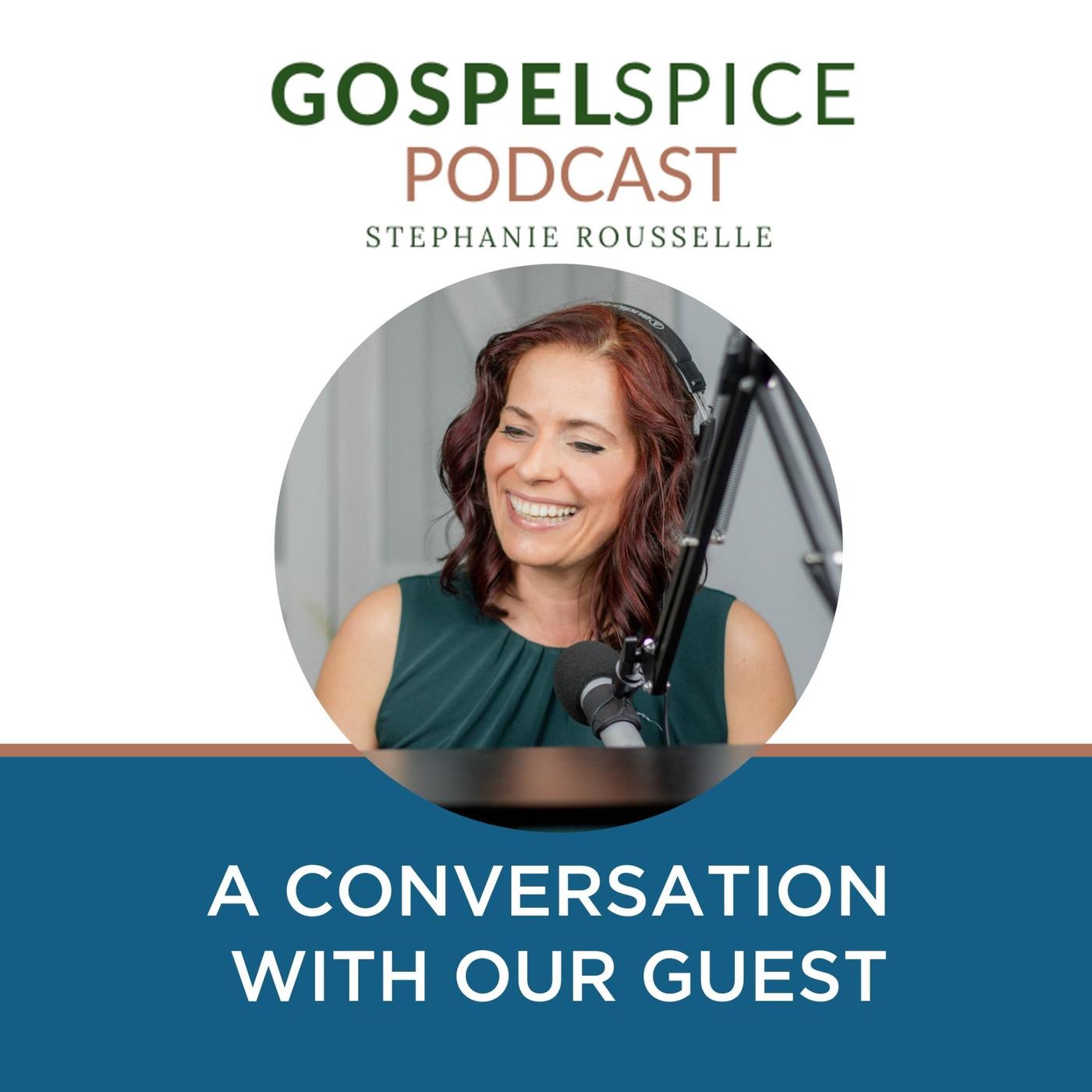 Stephanie invites you to discover the amazing journeys of our guests
The podcast that spices up your time with God