"Take courage! For I am with you", says the Lord | with Jennifer Rothschild
The beauty of surrender
Please use the following link to support us. Thank you!
Support us!
Episode 86 -- Jennifer Rothschild is sharing her experience of physical blindness and spiritual eyesight with us today. We go deep in the trenches of self-reliance, and she says, "I used to rely on my own strength, and I thought it was grace." She tells us that without Christ's power in us, we can't experience true success. Our strength can be our greatest liability.  Jennifer says that blindness has exposed her true weakness: her dogged self-reliance! Learning that our greater weakness is self-dependence teaches us to boast in our weakness because that is where the power of Christ can dwell.

So, we talk about the imperative of surrender to a God who knows us exactly as He created us to be. How do we make surrender our number one goal? This is one of the themes of "Take Courage: a study of Haggai" the latest book that Jennifer wrote--because she needed it for herself, and hopes to share it with others who seek to rebuild against discouragement after 2020 and amidst 2021. Jennifer reminds us through Haggai that you are never too young, or too old, for God to call and qualify and equip you for the work and identity He has for you.

Jennifer says, "true success is obedience." How do you not get weary of well-doing? Haggai teaches us that obedience and faithfulness ARE success. It is not about size and glitter, but about surrendering our 100% to God.

Jennifer shares with vulnerability how taking courage is an instruction amidst weakness and disappointment, not something for the strong. It is about receiving courage, not mustering it up out of our own strength. So, it starts with emptying yourself of self-reliance, stop trying to grip control, taking "be strong" off your to-do list, and tell God that you can't -- but that HE CAN! Case in point, Stephanie started this interview with a few butterflies in her stomach and a slight case of fan-girling, but Jennifer made her feel at ease immediately by her kindness and approachability. This was a perfect practical example of how to celebrate success as God defines it--not as we do.

And, did you wonder what Jennifer's favorite spice is? Take a listen to find out! It's full of spiritual depth, too!!

Stephanie apologizes for the lower quality of her own voice at occasions on this episode... the recording had technical difficulties, but the good news is that Jennifer's voice is perfectly recorded!

If you've enjoyed this episode, you will LOVE our Gospel Spice series! Click to check out the first episode of each season:

The Gospel of Matthew: https://www.podcastics.com/episode/3281/link/

The Psalms: https://www.podcastics.com/episode/33755/link/

The Gospel of Luke: https://www.podcastics.com/episode/40838/link/

The Book of Proverbs: https://www.podcastics.com/episode/68112/link/

 

DISCOVER THE GOSPEL SPICE MINISTRIES BEHIND THIS EPISODE

If you enjoyed this episode, we invite you to discover more about how God is at work at Gospel Spice Ministries, and even to join in His work! There are 3 easy ways to do that:

PLAY IT FORWARD by SHARING the show with friends and family: https://www.podcastics.com/podcast/38/link/

PAY IT FORWARD by supporting us financially: gospelspice.com/payitforward

PRAY IT FORWARD by praying for us and those you share it with!

Go to gospelspice.com for more info about Gospel Spice Ministries, the umbrella ministry over the podcast. You will discover our partners and the various services we offer, such as in-depth Bible studies with interactive conversation groups, a couple of times a year. 

Go to gospel-spice.com (with a "dash"!) to join the Gospel Spice Podcast community and interact with us!

Contact us on the website or at contact@gospelspice.com to send us your prayer requests (we pray for you as a team every week!) and let us know how we can come alongside you.

 

------- GOSPEL SPICE GIVEAWAY ------

Jennifer is giving away a copy of her latest Bible Study, Take Courage: a study through Haggai. So, go now to gospelspice.com/giveaway to enter for a chance to win!

-------- ABOUT TAKE COURAGE: A STUDY OF HAGGAI ----------

Do you ever feel like the happy ending of your story is a million miles away?

Then you know how the Jewish people felt when they returned to their wrecked land after exile and began rebuilding the temple. They were distracted, discouraged, and ready to throw in the towel. But the prophet Haggai reminded them they could find courage in the God who had never left them.

Sometimes the landscapes of our lives feel wrecked, with our hope and purpose in shambles. We too get distracted and discouraged. However, God's presence and promises give us courage to press on and trust Him with our story.

In this 7-session study on the Book of Haggai, learn to walk confidently in your calling, stay motivated despite opposition, and courageously invest your life in God's purposes, trusting Him for results you may never see in this lifetime.

------ GET TO KNOW JENNIFER ------

At the young age of fifteen, Jennifer was diagnosed with a rare, degenerative eye disease that would eventually steal her sight. It was more than a turning point for the Miami, FL, native. Her dreams of becoming a commercial artist and cartoonist faded. Words and music have replaced her canvas and palette for more than 30 years.

Known for her substance, and down-to-earth style, Jennifer weaves together colorful illustrations, universal principles, and music to help audiences find contentment, walk with endurance, and celebrate the ordinary. Through her signature wit and poignant story-telling, audiences are prompted to look beyond their circumstances to find unique "gifts," in unusual packaging.

Jennifer has taken her message of encouragement across the country speaking at national and regional gatherings of busy professionals, dedicated volunteers, and overwhelmed moms and dads. Jennifer has been a featured speaker for the nation's largest conference for women, Women of Faith, and has teamed up with Beth Moore and others to lead national women's conferences. Thousands have come away with a new vision for their future, their family, and their work.

She is the author of 17 books with combined sales approaching one million units, including the newest video-based Bible study, Take Courage: A Study of Haggai and the best-selling Lessons I Learned in the Dark. In addition to her writing and speaking, Jennifer is an accomplished songwriter and recording artist, with six albums to her credit – including Remember and Walking by Faith: The Music Captured Live, among others.

Jennifer has been featured on The Today Show, Dr. Phil, ABC's Good Morning America, and the Billy Graham Television Special, and on other national TV and radio programs including Hour of Power, Life Today, Family Life Radio, TBN, and others. Her life story and message has been the cover story of numerous national publications including Today's Christian Woman, Virtue magazine, Becoming Family magazine, HomeLife magazine, and others.

Jennifer is also the founder and host of Fresh Grounded Faith Events and the womensministry.net Leadership Library that equips women in ministry to lead well. She resides in Springfield, Missouri with her husband of 31 years, Dr. Philip Rothschild (a professor). They have two sons, Clayton, married to Caroline, and Connor. And her favorite title is Gigi to her two grandsons. Jennifer enjoys visits to theme parks and riding a bicycle built for two. She got a real charge singing the national anthem for the Atlanta Braves and bungee-jumping from seven and a half stories. Jennifer is a voracious reader; she loves classical music, dark chocolate, and the smell of a hazelnut-coffee candle.

Stay in touch: 

http://www.facebook.com/jennifer.j.rothschild;

http://twitter.com/jennrothschild.

jenniferrothschild.com for more!

https://www.freshgroundedfaith.com/events/

--------- CELEBRATING THE ASCENSION AND PENTECOST ---------

This year, Gospel Spice is not publishing episodes dedicated to the celebration of the Acension and Pentecost. These are crucial, momentous events in the life of Christ, and of the church. Please go to https://www.podcastics.com/podcast/gospel-spice/series/experience-the-ascension-and-pentecost/ to listen to all our content on this pricelesss topic! You will also find several other topic-themed inspiring series at the bottom of the page: gospel-spice.com

 

This season of the Gospel Spice Podcast is powered by Biblica! We are grateful for this partnership.

YOU ARE INVITED to follow in the footsteps of Jesus this fall!

Stephanie invites you to join her for this virtual tour of first-century Israel to experience Jesus' teachings like never before. This original online Bible Study by Gospel Spice will be taught exclusively from October 5 to November 16, 2023. Go to gospelspice.com/footsteps to register, and all the details!

YOU ARE INVITED to follow in the footsteps of Jesus this fall!

Stephanie invites you to join her for this virtual tour of first-century Israel to experience Jesus' teachings like never before. This original online Bible Study by Gospel Spice will be taught exclusively from October 5 to November 16, 2023. Go to gospelspice.com/footsteps to register, and all the details!
jennifer rothschild

stephanie rousselle

gospel spice podcast

gospel spice

take courage

haggai

blindness

christianity

christian podcast

philippians 4:13

fresh grounded faith

lifeway

bible study

4:13 podcast

for I am with you

says the Lord

Stephanie Rousselle

stephanierousselle

Jennifer Rothschild

GospelSpice

Gospelspice

Gospelspicepodcast

Gospelspice Podcast

GospelSpice Podcast

Gospelspice podcat

Christianity

Christian Podcast

Christian podcast

Fresh Grounded Faith

Fresh Grounded Faith Events

fresh grounded faith events

Lifeway

Bible Study

Stephanie rousselle

stephanie Rousselle

Jennifer rothschild

jennifer Rothschild

rothchild

rothshild

rothshield

jennifer

jennifer rothshild

jennifer rothshield

jennifer rothchild

Jennifer Rothchild

Stephanie Rouselle

Rouselle

rouselle

stephanie rouselle

gospelspice

gospelspicepodcast

gospelspice ministry

Gospel Spice Ministry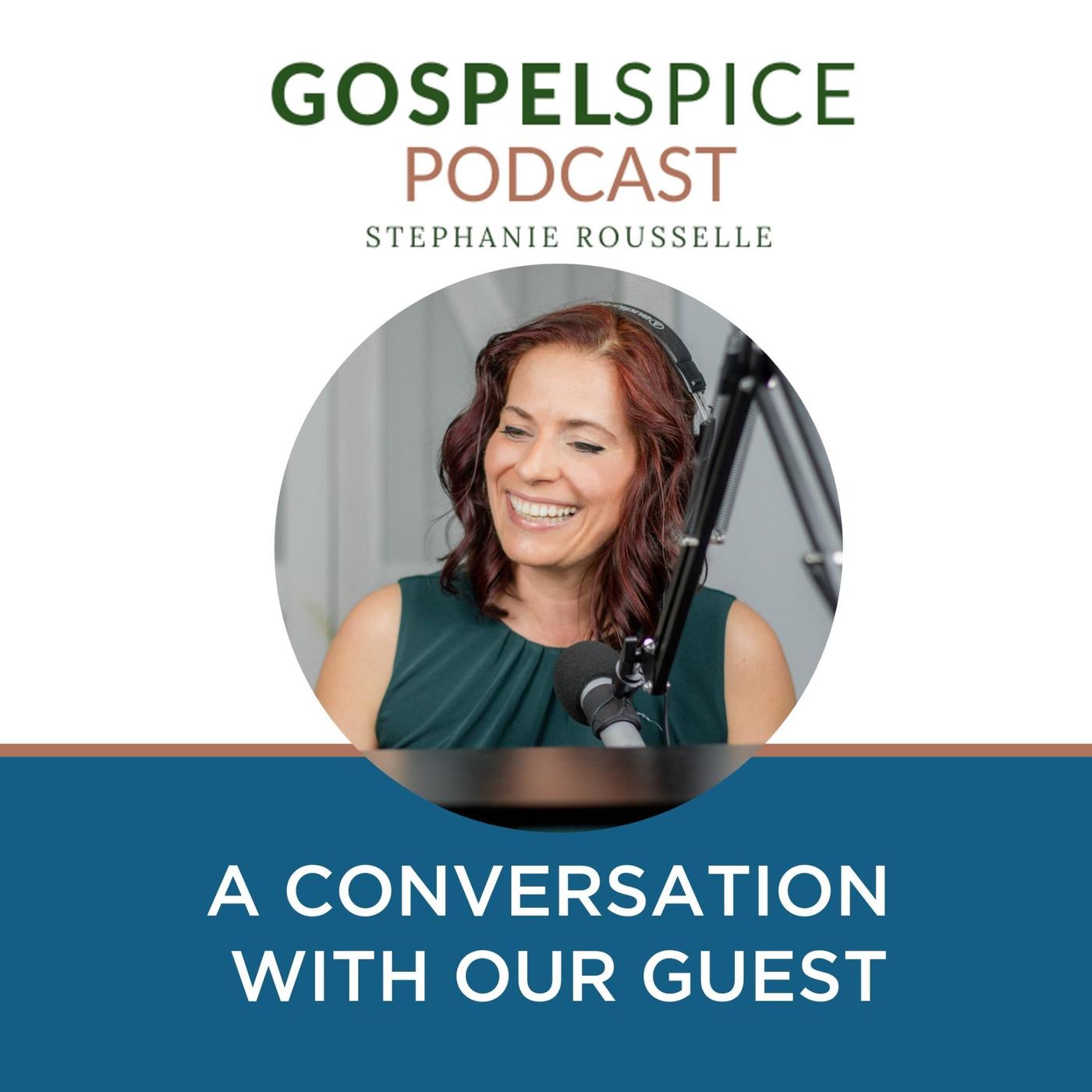 Stephanie invites you to discover the amazing journeys of our guests
Taste & See | Faith in Jesus Christ