What can I do today to fight human trafficking? | with Rebecca Bender
with Rebecca Bender, global anti-human trafficking advocate
Episode 111 – Stephanie welcomes Rebecca Bender for the second half of our Gospel Spice 2nd Anniversary Celebration. This episode highlights one of Gospel Spice's mission: to raise awareness in the fight against human trafficking in the US and abroad. In her own words, Rebecca "educates leaders and organizations about human trafficking so they can protect their communities and change culture."

This powerful episode is absolutely a must-listen, but is not for young ears: though we have kept it very clean, it might raise difficult questions from little ones. Listen accordingly! Rebecca gives us SUPER PRACTICAL TIPS to identify potential threats, based on your child's age, from elementary to high school years. If there is a child in your life, we encourage you to learn how to teach them safety today.

A reformer at heart, Rebecca has become a leading voice in the fight against human trafficking in all its forms. She shares with us what God has been teaching her lately, as she sees injustice and evil growingly rampant in our world today. She shares, "success is following God's call in your life, regardless of what it looks like." God's favor is not only seen in big things, but in the little things of daily life.

For nearly six years, Rebecca was sold across the underground world of sex trafficking in Las Vegas. She was branded, beaten, told when to sleep and what to wear, and traded between traffickers. Even in the midst of her exploitation, God began revealing himself to her and she found the hope she needed to survive. After a federal raid, Rebecca escaped. Her life was forever changed as she felt the embrace of her heavenly Father guiding her to healing and wholeness.

Rebecca soon began to use her own experiences to change the lives of others as she went back into the darkest places she had known--assisting FBI, VICE, and law enforcement across the country in some of their most difficult cases.

Today, Rebecca is an award-winning thought leader, advocate, speaker and consultant with a Master's degree in Christian Thought and years of insight on industry best practices. She has trained and equipped well over 100,000 professionals, individuals, agencies, and organizations to identify human trafficking in their own back yards. She is also the founder of Elevate Academy, the largest online school for human trafficking, serving nearly 800 survivors in 368 locations across the country and around the world. Her memoir, "In Pursuit of Love" was published by Zondervan in January 2020. Rebecca's incredible story of hope and redemption reminds us all that our past does not determine our destiny.

Find Rebecca:

@imrebeccabender (FB&IG) – make sure to follow her!

Make sure to discover the RBI FREE anti-trafficking Course: https://rebecca-bender.mykajabi.com/trafficking-truths

the MUST-TAKE quiz to discover what YOU can do TODAY: the Find your lanes quiz: https://www.rebeccabender.org/quiz

a plethora of free resources: https://www.rebeccabender.org/resource-list

 IF YOU'VE ENJOYED THIS INTERVIEW, YOU WILL LOVE OUR GOSPEL SPICE SERIES!

 Click to check out the first episode of each season:

We are currently in the middle of our series titled "Identity in the Battle" which is such a fitting context for today's interview! Check out the first episode in this current series: https://www.podcastics.com/episode/74762/link/

 

The Gospel of Matthew: https://www.podcastics.com/episode/3281/link/

The Psalms: https://www.podcastics.com/episode/33755/link/

The Gospel of Luke: https://www.podcastics.com/episode/40838/link/

The Book of Proverbs: https://www.podcastics.com/episode/68112/link/

DISCOVER THE GOSPEL SPICE MINISTRIES BEHIND THIS EPISODE

If you enjoyed this episode, we invite you to discover more about how God is at work at Gospel Spice Ministries, and even to join in His work! There are 3 easy ways to do that:

PLAY IT FORWARD by SHARING the show with friends and family: https://www.podcastics.com/podcast/38/link/

PAY IT FORWARD by supporting us financially: gospelspice.com/payitforward

PRAY IT FORWARD by praying for us and those you share it with!

Go to gospelspice.com for more info about Gospel Spice Ministries, the umbrella ministry over the podcast. You will discover our partners and the various services we offer, such as in-depth Bible studies with interactive conversation groups, a couple of times a year. 

Go to gospel-spice.com (with a "dash"!) to join the Gospel Spice Podcast community and interact with us!

Contact us on the website or at contact@gospelspice.com to send us your prayer requests (we pray for you as a team every week!) and let us know how we can come alongside you.

 
rebecca bender

rbi

human trafficking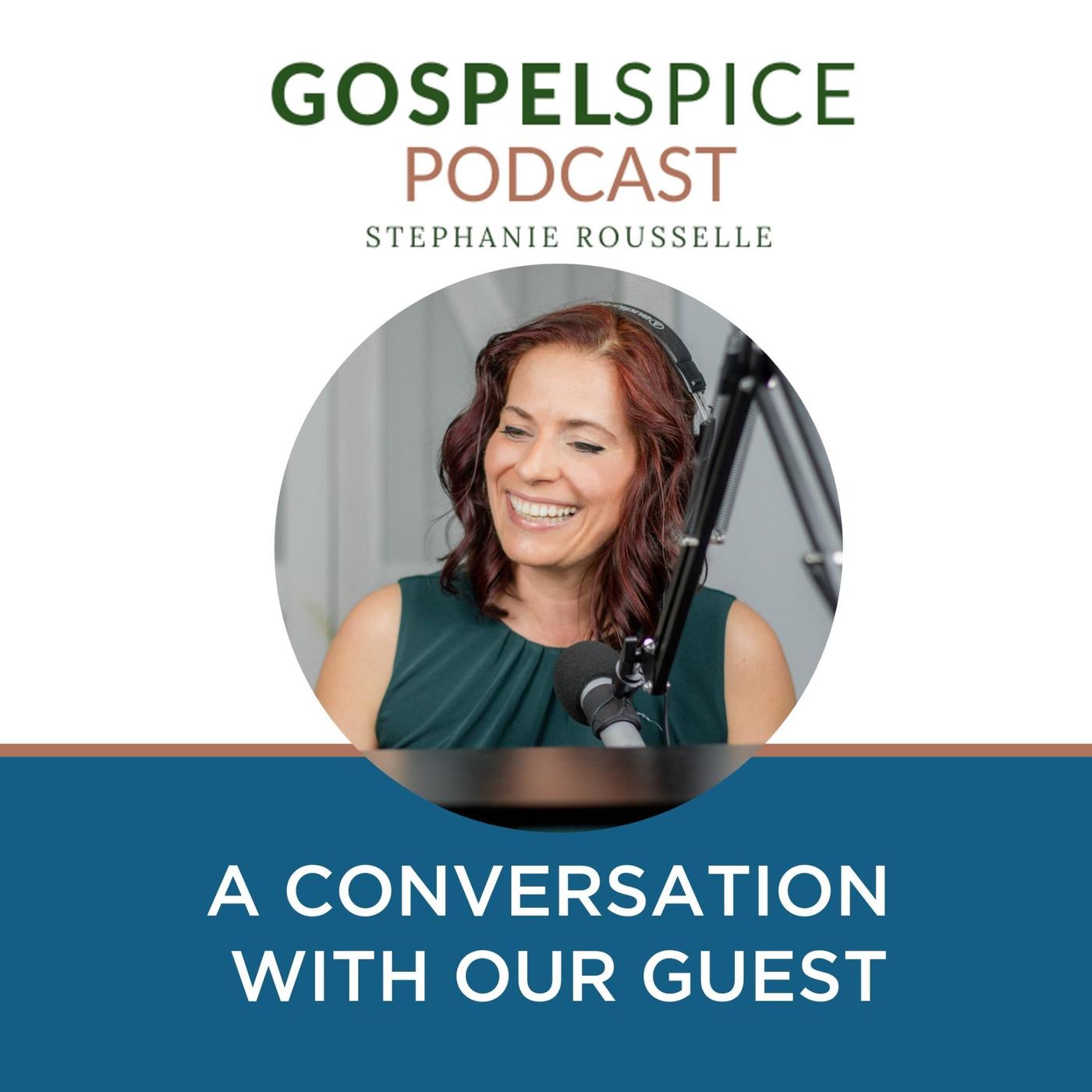 Stephanie invites you to discover the amazing journeys of our guests
Taste & See | Faith in Jesus Christ